How Are Stress and UC Related?
It's no secret that many people feel stress from time to time. While there's no proof that stress itself causes ulcerative colitis, stress can be a factor in symptom flare-ups. Here are a few ways that can help you manage your stress levels:
Just take a deep breath, listen to your doctors—everything will be okay.
Helping Others Understand Your UC
In your everyday life, you may have to deal with some aspect of your condition—whether you're experiencing UC symptoms or not. But just because UC is chronic doesn't mean it has to take over your life. There are ways to help you be your own best advocate and get info to family, friends, coworkers—anyone in your life who you think wants or needs to understand the disease.
So, if the moment ever comes up when someone asks about your UC, and you're open to sharing info with others when necessary, here are a few ways to help you be prepared.
Learn about UC: To explain the basics of the disease and how it can affect you, a good place to start is to know as much as you can about it.
Have information handy: You may want to have resources do some of the explaining for you. You can have printed material, like Ulcerative Colitis 101, or even refer them to a website like this one.
Understand your rights: Explore guidelines and eligibility requirements for potential services you may need. There may be means to access reasonable accommodations at school or work through the following laws:


Family and Medical Leave Act (FMLA)
Americans with Disabilities Act (ADA)
Section 504 of the Rehabilitation Act of 1973
Know the basics of Crohn's or UC
See an overview of facts on Crohn's disease or ulcerative colitis (UC)—all on one downloadable page.
Understand your inflammation
Explore and learn how inflammation affects you with Crohn's disease or ulcerative colitis (UC)—from inside the body.
Navigating Social Situations With UC
The possibility of a UC flare may keep some people from enjoying an active social life. But there are a few ways to plan ahead that may help you feel more comfortable going out.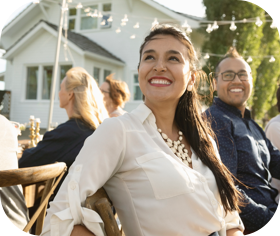 Know what to expect where you're going. Whether you have access to a bathroom if you need one or whether taking a change of clothes makes sense can be part of your routine when getting ready.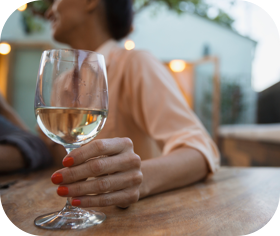 Alcohol, smoking, and drugs affect each person with UC differently. But they may pose health risks to your gastrointestinal (GI) tract and affect your medications. Remember to ask your doctor for more information.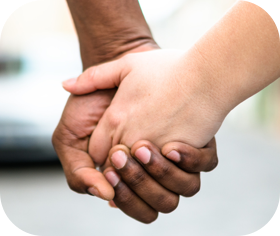 You may have questions about navigating relationships with UC. You may already know that being honest with your friends and partner is important—and so is your comfort level when talking about your UC. Learning to talk about it can help you feel more understood by others—and help others find better ways to support you when you need it.
Traveling With Ulcerative Colitis
Doing some research and planning ahead of time can help make trips go more smoothly. Here are a few tips:
Talk to your healthcare team about your travel plans. They may be able to offer advice and information about any necessary precautions or immunizations.
Take along your healthcare team's contact information and copies of insurance cards.
Remember to bring enough medication—preferably in its original packaging. And make sure the sizes of liquids can go through security.
If you have an ostomy bag, make sure you tell TSA personnel before you go through security. Check out the TSA's page for people with medical conditions.
Research your destination. Know as much as possible about where you're going so you know what to expect. Aside from activities, places to stay, and where to eat, you might want to find out about nearby restrooms, when pharmacies are open, and if water is safe to drink.

Your diet when you travel should be as close as possible to your diet at home. Bring along dry, packable foods and follow the same precautions when eating out as you would when not traveling.
Use helpful resources that are available—like a Restroom Request Card, which can let you discreetly communicate your condition and gain access to restricted bathrooms—to be prepared in case you have sudden symptoms away from home.
How UC Can Affect Women Differently
Ulcerative colitis can equally affect men and women, but despite sharing some of the same symptoms, there may be some differences.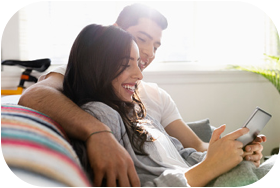 Conception: With UC under control, women can become pregnant as normally as other women. But it may be more difficult to conceive a child during an active disease state, and it is not recommended during flare-ups. Always talk to your doctor if you are or plan on becoming pregnant.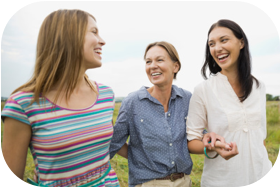 Fertility: Depending on what part of the large intestine is affected, women with active inflammation have reduced fertility.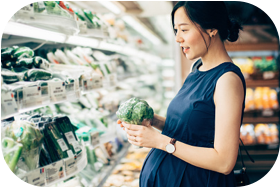 Pregnancy:  Women can generally have healthy pregnancies while living with UC—however, if their disease is in an active state, they are more susceptible to complications like miscarriage, stillbirth, premature delivery, or developmental defects. Even if your UC is under control, communicate openly with your doctor during pregnancy.
Get a Restroom Access Card* and helpful info
Have a discreet way to ask for access to restricted restrooms if you have symptoms. And get updates, resources and more sent to your inbox.
*Eligibility restricted to patients diagnosed with Crohn's disease or ulcerative colitis. Available as a card and mobile wallet version for your phone.
Understand your inflammation
Explore and learn how inflammation affects you with Crohn's disease or ulcerative colitis (UC)—from inside the body.
Looking for a gastroenterologist?
Find a gastroenterologist—a doctor who specializes in Crohn's disease and ulcerative colitis (UC)—near you.
Make the most of your appointments
Our doctor discussion guide can help you talk effectively with your doctor during your visits.
Is it time to make a personalized action plan?
See how much time your disease is impacting you. Answer 5 quick questions and get 3 customized, timely steps to help you and your doctor take action with your disease.